Top 10 places to visit in Hunza
Hunza is the most famous district of Gilgit-Baltistan among tourists. Hunza valley is one of the most literate districts of Pakistan. Karimabad is the capital of this District. The people of Hunza are so fit and healthy. The best weather conditions, pure food, and delicious fruits are the reason for good health. That's the reason that the health of Hunzians is much better in Gilgit-Baltistan. Similarly, the ages of people in Hunza are also higher than in the others. In this blog post, we will tell you about the top 10 places to visit in Hunza, Gilgit-Baltistan. Although there are more than 10 places to visit in Hunza which are famous among tourists. The top 10 places to visit in Hunza are:-
Attabad Lake Hunza
Attabad Lake Hunza is the result of a massive land sliding accident in Hunza, Gilgit Baltistan. In 2010 this accident cut off Hunza from the North. this results in destroying 26 homes and the killing of 20 people. Also obstructed the Hunza river for almost 5 months. Attabad lake Hunza is now a main tourist point in the Hunza Valley. People visit this lake and also enjoy boating there.
Altit Fort
Altit Fort Hunza according to the verbal history is almost 900 years old. The Altit Fort is present almost 3 kilometers away from Karimabad on the bank of the Hunza River. Karimabad is the capital of Hunza valley. The word Altit means the lower side. Like other Forts in Gilgit Baltistan, this is also made of strong stones and wood. Below it, the Hunza river looks like bowing in front of Fort. Seeing its construction we can imagine how hard-working people they were. The Altit Fort has a magnificent view over the Hunza valley.
Passu Cones
Passu Cones are a few insinuated peaks in the Karakoram Range Hunza valley. The cone-shaped group of mountains on the Karakoram highway is just amazing. The cones are known as Passu Cones and Passu Peaks. These are in the Karakoram range of mountains in Hunza valley, the north of Pakistan. The highest point among them is 6,106 meters.
very few people have climbed the various peaks of Passu Cones. Climbing the peaks will be a serious effort that would require proper planning. Some of them are really steep and might involve a technical climb. A number of local and foreign tourists visit this beautiful place, especially in the summers.
Hussaini bridge
Six cables are hung from one side to the other side. Massive gaps between the wooden planks. Some planks are also missing in between. The most dangerous and highest suspension bridge in Pakistan. Hussaini suspension bridge crosses the lake Borit upstream of the Hunza river in northern Pakistan. This bridge is also one of the oldest bridges in Pakistan.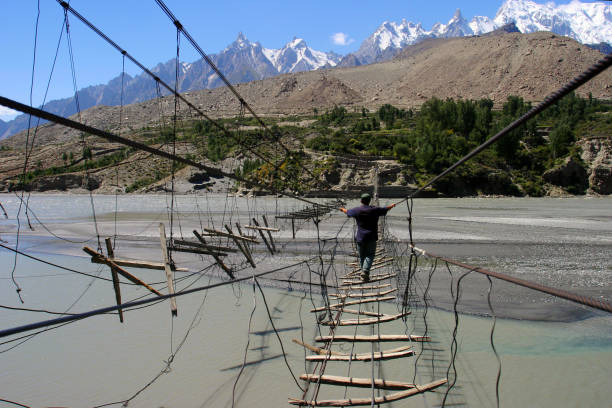 Baltit Fort
Baltit Fort Hunza is an almost 800 years old Fort in the Hunza valley. The Fort is present on the top of the mountain like a Crown on the Valley. The old but wonderful building style of this fort is appreciable. The Baltit Fort build on a solid foundation of strong stones and wood was the palace of the rulers of Hunza.
Khunjarab Pass
The Khunjarab passed borders between Pakistan and China. The beginning point of the Pak-China Economic Corridor. This Corridor will be beneficial for both the countries in many aspects. Pak china border is a must to see place while visiting Gilgit Baltistan. Do keep a jacket as this place is cold & windy. There are yaks nearby & it's a great experience to ride a yak. There is a lot to tell about this border and the amazing views around so we will try to have another detailed post on this.
Shimshal
Shimshal Valley is the valley of mountainers located in Gojal of Hunza Valley. This valley is almost 3,100 m above sea level. Further, Shimshal is a border village that connects the Gilgit-Baltistan part of Pakistan with China. Shimshal is about 55 km away from Passu Village. Most importantly, the valley has its largest adventure area in Hunza and is a major attraction for tourists. Shimshal has 4 small villages. They are Aminabad, Farmanabad, Khizarabad, and Central Shimshal.
Avgarch Valley
Avgarch is one of the old Wakhi settlements in the area of Gojal Valley. The old buildings are still there telling a lot about ancient history. There is no road access in this valley. The only way to reach here is on foot. Up there is all open space, grazing animals, and full of calm. This valley is a super historical and kind of mythical place. Pretty Challenging and serious trekking point.
Borith Lake
Borith Lake is a small lake but a top tourist point in Hunza Valley. This lake is almost 2600m above sea level. A very peaceful place for the rest of the mind. This place is famous among photographers for milky way shooting. The drive there is along a small dirt road with hairpin turns. There is a restaurant that makes for a good tea stop on the lake. The views of the mountains are limited from there but lovely. A great place for a meditation session, or a serene walk around the lake.
Hoper Glacier Hunza
Hopper Glacier is a Glacier on a light trek from Karimabad. It takes almost 40 to 45 minutes to reach this glacier from Karimabad. This glacier is gray-black in a color that makes this unique from other glaciers. There are two small hotels that provide reasonable lodging facilities.