Top 5 places to visit in Upper Hunza
Gojal Valley, Upper Hunza rich in cultural heritage and borders Pakistan and China. This valley is a super historical and kind of mythical place. There are a lot of amazing tourist points in this valley. Those points are famous not only among locals but foreigners as well. Some of the most famous among them are listed below.
Passu Cones Gojal
Passu Cones are few insinuated peaks in the Karakoram Range that are located East of KKH in Passu / Husseini village areas of Gojal Valley. The strange pointed shape of the numerous peaks located on a single massif and their visibility from most areas in Gulkin, Gulmit, Hussein, and Passu areas make them famous.
very few people have climbed the various peaks of Passu Cones. Climbing the peaks will be a serious effort that would require proper planning. Some of them are really steep and might involve a technical climb.
The cone-shaped group of mountains on the Karakoram highway is just amazing. The cones are known as Passu Cones and Passu Peaks. These are in the Karakoram range of mountains in Hunza valley, the north of Pakistan. The highest point among them is 6,106 meters. Passu is a windy place even in the summers the nights are slightly colder. The village is also full of beauty. A number of local and foreign tourists visit this beautiful place, especially in the summers.
Hussaini bridge
Six cables are hung from one side to the other side. Massive gaps between the wooden planks. Some planks are also missing in between. The most dangerous and highest suspension bridge in Pakistan. Hussaini suspension bridge crosses the lake Borit upstream of the Hunza river in northern Pakistan. This bridge is also one of the most Oldest Bridge in Pakistan.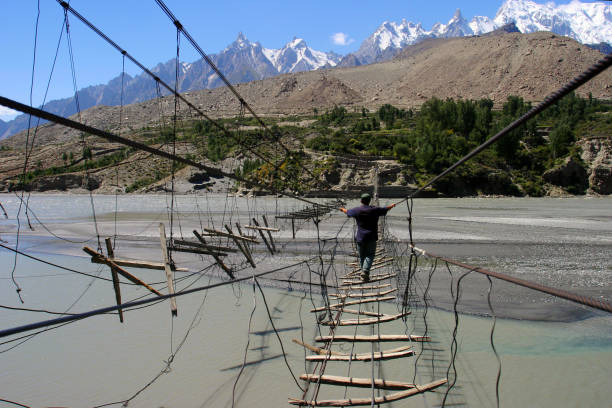 Attabad lake
Attabad Lake Hunza is the result of a massive land sliding accident in Gojal Hunza, Gilgit Baltistan. In 2010 this accident cut off Hunza from North. this results in destroying 26 homes and killing 20 people. Also obstructing the Hunza river for almost 5 months.
There was a village named, Attaabad before this incident. Almost 40 to 45 houses are there. In 2002 a mountain above this village had some cracks under this mountain. Some foreigners visit this place and warn the people and government also that this can cause a land sliding at any time. Till 2010 nothing happened and not anybody left the house.
In 2010 due to excess rainfall, this mountain began to slide from the bottom. After that, some people left their houses but the majority of people still stay there. A week after that this huge sliding incident occurs and people lost their lives.
Avgarch Valley
Avgarch is one of the old Wakhi settlements in the area of Gojal Valley. The old buildings are still there telling a lot about ancient history. There is no road access in this valley. The only way to reach here is on foot. Up there is all open space, grazing animals, and full of calm. This valley is a super historical and kind of mythical place. Pretty Challenging and serious trekking point.
The trek starts from the picturesque village of Jamalabad. Jamalabad is located between Sost and Passu in Hunza Valley. The route There is not for fearful and faint-hearted people. There are foot-bridges, river-beds, stones, and at some points need to have jumping and climbing. The high mountains are home to Himalayan Ibex. The deceptive mountain animals are quite hard to find.
Khunjarab border
The Khunjarab pass borders between Pakistan and China. The beginning point of the Pak-China Economic Corridor. This Corridor will be beneficial for both the countries in many aspects. Pak china border is a must to see place while visiting Gilgit Baltistan. Do keep a jacket as this place is cold & windy. There are yaks nearby & it's a great experience to ride a yak. There is a lot to tell about this border and the amazing views around so we will try to have another detailed post on this.