5 beautiful lakes in Gilgit-Baltistan
Gilgit-Baltistan is home to many beautiful lakes. A few of them are famous all around the world. Although there are more than 600 lakes in Gilgit-Baltistan. In this blog post, we will tell you about the 5 beautiful lakes of Gilgit-Baltistan. The top 5 beautiful lakes in Gilgit-Baltistan are:-
Shangrilla Lake Skardu
Shangrilla lake Skardu also known as the lower Kachura lake is in the Kachura village of the district Skardu, Baltistan Division. The name Shangrilla is the Tibetan language word meaning "Heaven on earth". Meanwhile, this beautiful place is only a 20-minute ride from Skardu city, and from Skardu airport, it is only 10 minutes ride. Moreover, Amazing and Beautiful location. Nice and clean huts by the lakeside. Most importantly, pristine nature delicious food, and mouth-watering Trout Fish. On the other hand, the food is good with the majority of local ingredients being all organic.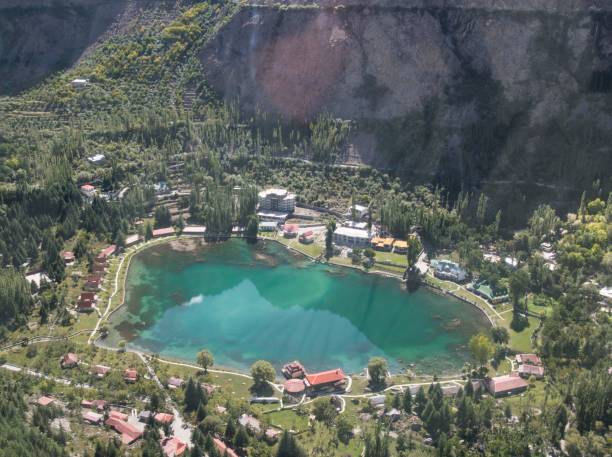 Attabad Lake Hunza
Attabad Lake Hunza is the result of a massive land sliding accident in Hunza, Gilgit Baltistan. In 2010 this accident cut off Hunza from the North. this results in destroying 26 homes and the killing of 20 people. Also obstructed the Hunza river for almost 5 months. Attabad lake Hunza is now a main tourist point in the Hunza Valley. People visit this lake and also enjoy boating there.
Rainbow Lake Astore
Rainbow Lake is a small lake but doesn't at all lack beauty. Fed by freshwater streams from adjoining mountains, Rainbow Lake has crystal clear water that changes shades from turquoise to green during different times of the day. The lake contains good-sized brown trout and is popular amongst trout anglers.
Upper Kachura Lake Skardu
The Upper Kachura Lake is another wonderful lake located in Kachura valley Skardu, Gilgit Baltistan. Also called "Froq xho" locally. The water of the lake is clean, clear, and ice-cold and has a depth of almost 70 meters. The trip to SKARDU is not complete if Upper Kachura Lake is not visited. Lake in between the majestical Skardu Valley mountains.
It's approximately 30 minutes drive from Skardu city to Kachura. It takes around 15 minutes to walk from Parking to Lake and one really enjoys that walk as the track passes through a beautiful village and Fruit trees.
Rama Lake Astore
Rama lake Astore is a small lake in Astore Valley Gilgit-Baltistan, Pakistan. Astore Valley is full of meadows and pastures. The meadows around Rama lake are the real beauty of this region. One of the peaceful ambiances, with crazy weather the way from Astore to Rama is hidden natural beauty.
Satpara Lake Skardu
Satpara Lake is a natural Lake situated in Skardu city, Gilgit Baltistan Northern Area of Pakistan. From Skardu city, it is at a distance of 9km to the north. It's only a 20-minute ride from Skardu city. At About 8645feet above sea level.
The area of this lake is almost 2.5 km. Beautiful lakes to visit and famous tourist points near Skardu city. Clean blue water and the mountains around are the beauty of this lake. The image of the mountains in the lake is amazing seems like they are in the lake.
This lake is the source of water supply for Skardu city and now a Dam has been constructed for power generation. Tourists also enjoy fishing here. A fishing permit for a single person is 1000PKR. The lake has famous and unique brown trout fish. Must try trout fish of the Satpara lake. Unique thing is that its Bones are edible.